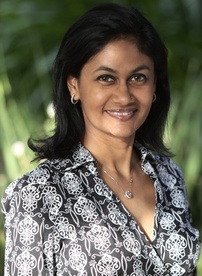 Jayn Rajandran
is a Licensed Marriage & Family Therapist in the San Francisco Bay Area, with offices in both San Francisco's Financial District and Rockridge, Oakland. She specializes in
individual, couples, family and group therapy,
across the age spectrum.
Jayn believes that therapy does not have to be an arduous process. It should be fun when it's filled with an eagerness on the clients' part to get over the hurdle that they are currently facing so that they can go back out there and enjoy the life that they born to live. Therapy should be extremely focused and in most cases, clients are able to discharge from therapy within 5-6 months, especially if it's a life transition problem. Some clients of course need to be in treatment longer due to more severe trauma, abuse or mental health symptoms, attached to the roadblocks faced.
Jayn's strengths include her
years of experience
practicing her skills and training as a psychotherapist in many different clinical settings, as well as her caring, empathic, and compassionate nature. She is humbled and honored by the privilege of being invited into her clients' inner worlds and being able to guide them on their journey of healing and personal growth. She does this with tremendous respect and acceptance.
Jayn's style is to be a supportive and collaborative partner with her clients to help them use their own self-leadership to find creative and lasting solutions to life's challenges, which stems from her deep belief that people possess an amazing innate ability to heal and find their own answers. However, sometimes people may be stuck in old patterns or may have a difficult time discovering new ways of thinking or being.
With sensitivity, compassion, and a strengths-based / solution focused approach, she guides her clients to find and utilize their own inner wisdom to get unstuck and achieve their life goals. With her skillful guidance she helps people to embody their emotions and to truly work with the physical, emotional, and spiritual dimensions of their issues.
Jayn Rajandran is listed at
AllTherapist.com
---