Holistic approach to calling love and opening your heart to the most amazing feeling, called love.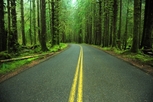 The road to finding love can be a long and arduous one. It can be fraught with wrong turns, dangerous potholes and circuitous routes that sometimes feel as if they're leading you nowhere. But the very fact that you've been drawn to this site indicates that you are seriously searching for a change in your love life. You are now being presented with an extraordinary opportunity to change the course of it. What are you going to do?

You are standing at the fork, in the road. One path leads to more of the same. It's a safer journey, in many respects but usually only leads to an all-too-familiar disappointment.

The other path leads to freedom from the past and the very real possibility of love in the future. It is the UNKNOWN road. From this vantage point, it may seem somewhat intimidating and frightening. For this reason, it is a path less often traversed. However, this course will guide you down that road, step by step to the fulfillment of love.

There seems to be a huge chasm between wanting to find your ideal partner and being truly available for that partner when he/she appears. This course is about bridging that chasm. You will learn how to set a strong intention to love and be loved, then outlines in clear, specific steps what you can do to make your intention become a reality.

As a licensed psychotherapist, I have been able to bring to the table my years of experience with both psychological healing and spiritual transformation to structure an approach that is accessible, effective and psychologically sound.

No matter how disappointed you've been in the past, no matter how weary and resigned you've become, i know that you can now choose a path that will enable you to find and welcome your beloved joyfully.

For truly, there is someone for everyone. Take heart and do not feel discouraged.
Love does belong to you.

Do contact me, if you feel this could be a group, for you.

---